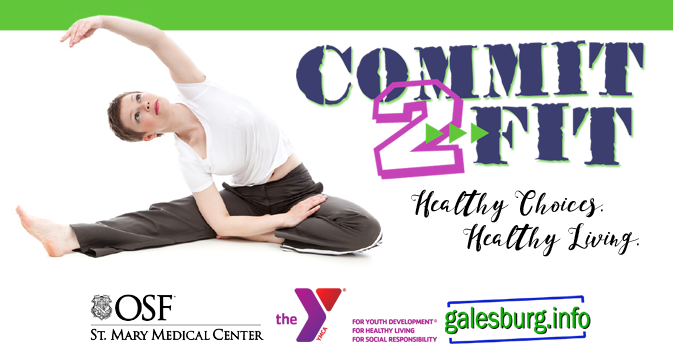 You're weighed-in. You've bought new workout gear. Now what? Let's start with some fitness goals. Long term AND short term.

When you registered you may have said 'I'm going to lose 30 pounds'. That's a great long term goal, but what are your short term goals to ensure you stay on track? Here are some tips to setting goals you can achieve.

Your fitness goals should go past the weigh-out in March. Take a momnent. Sit down. Think about your fitness plan. Put it in writing. Take a look at 2017. Let's create a plan you can stick to. Short term goals equal smaller successes. Which keep you motivated. Help you achieve your goal.

Weekly Challenges: Carrie Bernett, OSF Marketing Coordinator, will post a weekly team challenge Friday morning on the Commit2Fit Facebook page. The challenge will also be posted here on galesburg.info. If you complete the challenge that week, simply comment on facebook or contact Carrie. The team with the most teammates completing the challenge will win a prize. Prizes will be awarded at the Ceremony of Winners event in March.

Week 1 Challenge January 13th - January 19th: Record your calories consumed and physical activity in a daily log by using your fitness tracker or by web applications: www.myfitnesspal.com or www.sparkpeople.com

Why is tracking your food intake so important in weight loss? In a study conducted by the Kaiser Center for Health Research in Portland, Oregon, dieters who kept a food diary lost TWICE as much weight as those who kept no food record. The reason: Writing down what you eat makes you accountable for every bit of food that goes into your mouth, including high-calorie indiscretions. Keeping a diet record helps you become more mindful of what you are eating, how much you are eating, and whether or not you are meeting calorie and nutrient goals.

Week 2 Challenge January 20th - January 26th: Park in the furthest parking spot in the lot when going to work, the store, the Y, etc.

"Before" pictures will be during weigh-in. If you would like a copy of your "before" photo, please contact us. Past participants mentioned putting their photos on their refrigerators as great reminders.

Join us on Facebook
The Commit2Fit Facebook page proved to be a great place for participants to connect. Please join if you haven't. You are encouraged to share exercise plans, recipes, helpful websites, and most importantly, your success.

Also, watch the facebook page for weekly challenges and updates from Carrie Bernett, OSF Marketing Coordinator.

The Knox County YMCA will also be posting information regarding group fitness classes and additional fitness information.

Comments or concerns about Commit2Fit, contact us.

Important Dates:

Weigh-Out:
Location: NEW Knox Co YMCA - downtown Galesburg
Thursday, March 9th 4pm-7pm
Friday, March 10th from 6am-9am


Ceremony of Winners
Winners will be announced at a ceremony at OSF St. Mary Medical Center on Monday, March 13th at 6pm. Light snacks will be provided.

Comments or concerns about Commit2Fit, contact us.

The Contest
Get the Details

Helpful Tools
Adult BMI Calculator
Calorie Burn Rate Calculator
Target Heart Rate


Helpful Sites
OSF St Mary Medical Ctr
OSF - Healthy Recipes
Knox Co YMCA
American Heart Assoc
American Stroke Assoc

Helpful Sites Suggested by Commit2Fit Participants


mapmywalk.com
mapmywalk - app
Becky R

loseit.com
Becky R


myfitnesspal.com
"Makes journaling your food and exercise super fun and easy!" Kari


caloriecount.about.com
"Good website for tracking." Jenny

sparkpeople.com
"Lots of good recipes, ideas, and tracking helpers. Just like Weight Watchers, but free!" Keisa

Helpful Hints
Be sure to never miss an email, add
galesburginfo@listeneremail.net
to your "contacts" or "safe senders list"