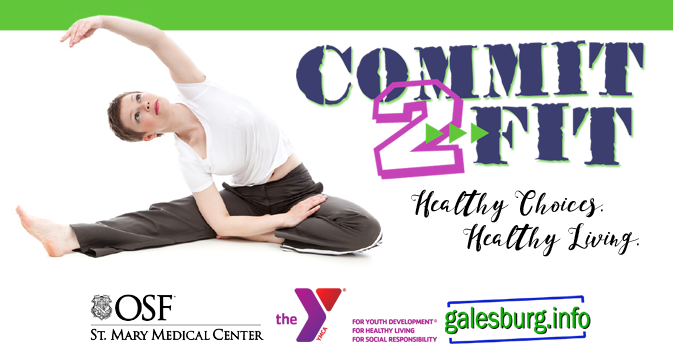 This week it's all about the H2O! Your goal is 8 - 8 ounces glasses of water a day! Drinking all that water might seem like a daunting task, not to mention more trips to the bathroom. Sparkpeople.comshared a few creative tips to make water consumption a little more interesting:

Purchase the perfect reuseable water bottle
Fill a drinking glass with your meal
Use a straw to sip it slower

Water isn't just for drinking. Grab your bathing suit, it's time for a dip in the pool. Swimming is an excellent form of exercise. Water provides natural resistance so you can work opposing muscles at the same time. Another great feature about water is its buoyancy. It reduces your weight, therefore putting significantly less stress on your joints, bones and muscles. Learn about the many benefits of swimming. Contact the Knox County YMCA for open swim times: 309-344-1324.

Weekly Challenges: Carrie Bernett, OSF Marketing Coordinator, will post a weekly team challenge Friday morning on the Commit2Fit Facebook page. The challenge will also be posted here on galesburg.info. If you complete the challenge that week, simply comment on facebook or contact Carrie. The team with the most teammates completing the challenge will win a prize. Prizes will be awarded at the Ceremony of Winners event in March.

Week 3 Challenge Jan 27th - Feb 2nd: Drink 8 - 8 ounce glasses of water every day. There are 8 ounces in 1 cup. An average bottled water has around 16 ounces of water. Just drink 4 bottled waters a day. Breakfast, lunch, snack, and dinner. Good luck!

Weekly Challenge Winners:
Week 1 Challenge Jan 13th - Jan 19th: Blue Team
Week 2 Challenge Jan 20th - Jan 26th: Silver Team

Please join us:
Love Your Heart: Women's Health & Fitness Fair 
Friday, February 3
7:00am-10:30am
OSF St. Mary Medical Ceneter Cardiac Rehab Center -
3333 N. Seminary S | Galesburg

The Knox Co YMCA is sponsoring Cupid's Chase 
Saturday, February 18
8:00am-9:00am
Downtown Galesburg

"Before" pictures will be during weigh-in. If you would like a copy of your "before" photo, please contact us. Past participants mentioned putting their photos on their refrigerators as great reminders.

Join us on Facebook
The Commit2Fit Facebook page proved to be a great place for participants to connect. Please join if you haven't. You are encouraged to share exercise plans, recipes, helpful websites, and most importantly, your success.

Also, watch the facebook page for weekly challenges and updates from Carrie Bernett, OSF Marketing Coordinator.

The Knox County YMCA will also be posting information regarding group fitness classes and additional fitness information.

Comments or concerns about Commit2Fit, contact us.

Important Dates:

Weigh-Out:
Location: NEW Knox Co YMCA - downtown Galesburg
Thursday, March 9th 4pm-7pm
Friday, March 10th from 6am-9am


Ceremony of Winners
Winners will be announced at a ceremony at OSF St. Mary Medical Center on Monday, March 13th at 6pm. Light snacks will be provided.

Comments or concerns about Commit2Fit, contact us.

The Contest
Get the Details

Helpful Tools
Adult BMI Calculator
Calorie Burn Rate Calculator
Target Heart Rate


Helpful Sites
OSF St Mary Medical Ctr
OSF - Healthy Recipes
Knox Co YMCA
American Heart Assoc
American Stroke Assoc

Helpful Sites Suggested by Commit2Fit Participants


mapmywalk.com
mapmywalk - app
Becky R

loseit.com
Becky R


myfitnesspal.com
"Makes journaling your food and exercise super fun and easy!" Kari


caloriecount.about.com
"Good website for tracking." Jenny

sparkpeople.com
"Lots of good recipes, ideas, and tracking helpers. Just like Weight Watchers, but free!" Keisa

Helpful Hints
Be sure to never miss an email, add
galesburginfo@listeneremail.net
to your "contacts" or "safe senders list"